Updating our school district calendar: Monday, December 21 - Middle and High School Students Cohort Group A Day; Elementary all in person Tuesday, December 22 - Middle and High School Students Cohort Group B Day; Elementary all in person Wednesday, December 23 - All pk-12 students will be on remote learning from home on Wednesday, December 23rd. Individual classrooms and teachers will share additional learning expectations with all students for the 23rd. Have a safe and wonderful winter break! Sincerely, CPS Administrative Team

As part of the approved November school referendum, the school district will be moving to a northern campus and designating the Rexford Longfellow property for redevelopment with an emphasis on supporting growth and development of downtown Clintonville. As part of the process, the school board would like to share potential options for "best solutions" with community/school needs being first priority. This survey is soliciting ideas and feedback for potential ideas on how the Rexford Longfellow could be redeveloped by outside developers. USE THE LINK BELOW TO ACCESS THE SURVEY:
https://forms.gle/E2xq83Q7V4oJhCtt8


Due to power outage 10-22-2020, some staff are unable to reach parents for conferences. Sorry for this inconvenience, we trying to reach families the best we can. If we are unable to reach you we will reschedule. - Mr. Kuhn

Parent/Student/Teacher Conferences Information 10-21-2020 Clintonville Public School District will be having Parent Teacher Conferences Thursday night from 4:00pm to 8:00pm and Friday morning from 8:00am to 12:00pm.  If teachers have set up Google Meeting Hangouts with parents, then please proceed as they have directed.  For those of you expecting phone calls, remember that many of the calls you may receive will have "restricted" or "unknown caller" for the Caller ID.  Please answer this call during your scheduled time, it is most likely your teacher calling for your conference.   Mr. Kuhn Technology Director

Good Morning Families: The Clintonville Public School District will be continuing in the "SEVERE RISK" Phase of our return to school plan which means we will remain 100% virtual for all students at this time. The Board of Education will review the current status on its next determination date of October 26, 2020. More information is available at:
https://www.clintonville.k12.wi.us/o/clintonville-public-school-district/page/coronavirus-information-updates--4
. As reminder, the District is offering 2 hour Digital WiFi Cafe opportunities in each building during 100% virtual instruction for students with internet connectivity issues. Please contact your school building office for details. Shuttle service can be arranged by contacting Lamers Bus Lines @ 715-853-9900.

October 12, 2020 Dear Clintonville Public School Families, The Clintonville School District will be holding virtual parent-teacher conferences this year (due to Covid-19). Conferences will be held virtually on October 22 from 4:00 pm to 8:00 pm and October 23 from 8:00 am to 12:00 pm. We are asking each parent to sign up for a parent/teacher conference time for each of their children using Skyward. Here is the link:
https://skyward.clintonville.k12.wi.us/scripts/wsisa.dll/WService=wsEAplus/fwemnu01.w

PLEASE JOIN US FOR A "VIRTUAL" COMMUNITY INPUT SESSION ON THE REFERENDUM. 6:00 PM Monday, October 5th. (Limited in-person seating available in the MS IMC - email
ddyb@clintonville.k12.wi.us
if you would like to attend in person). link to google meet:
https://meet.google.com/ifq-kzps-bqm
or telephone access: 414-909-4162‬ PIN: ‪189 348 172‬# Format: Brief Presentation followed by Question & Answer session.

Good Afternoon Clintonville Parents and Families: This message is to provide some clarification to yesterday's message on our return to school plan. ALL students will have the option to return to school for 4 days a week beginning Sept. 28th if we continue in the medium risk level. While in the Medium Risk Level, Instructional options will be 4 day in-person or 100% virtual. The 2 day cohort will no longer be available. The school district may change to a more severe risk level at any time if conditions dictated by the county Covid-19 cases warrant such a change. A switch to a more severe level would be communicated to families and staff as quickly as possible. If parents feel the best interest of the child is to switch back to in-person instruction, they must contact the building principal to decide the most appropriate transition date. In most cases, the building principal will determine that this date will be the end of the quarter (Nov. 4th, Jan. 14th, March 19th). With the possibility of students returning to 4 days a week in-person beginning Sept. 28th, administration has agreed that parents may contact the building principal by Wednesday. Sept. 23rd to request the switch from 100% Virtual to 4 days a week in-person instruction. While in the medium or higher risk level, any parent may choose to have their child in the 100% virtual learning at any time due to health or medical concerns by contacting their child's building principal. They are committed to virtual for one full quarter or until the district suspends virtual learning. All 100% virtual students may stay with that option until we return to the Low Risk Category according to Return to CPSD Safety Document for Return w/Covid 2020-2021 and pre-Covid Guidelines. Please feel free to contact your child's building level principal with any questions. David C. Dyb, Ed.D. Superintendent Clintonville Public Schools 715-823-7215 ext. 2604
ddyb@clintonville.k12.wi.us
Dear Parents, Last evening the Clintonville Board of Education approved an update to our return to school plan that utilizes metrics developed in collaboration with the Waupaca County School Superintendents and the County Health Officer. These metrics will allow the district to move from the current "High Risk" level to the "Medium Risk" level and more importantly, 4 day in person instruction for all students beginning Monday, September 28th. Wednesdays will remain a virtual / learning at home day for all students. The plan does allow for adjustments to be made for remaining in or moving to a higher risk level immediately if a significant change in cases occurs. We will continue to use the Waupaca County Dashboard numbers to help guide our decisions. Thank you for helping us to provide a safe learning environment for all students and staff
https://waupacacounty.maps.arcgis.com/apps/opsdashboard/index.html#/a72bc2528e014300805743db1a54d54e
Sincerely, David C. Dyb, Ed.D. Superintendent Clintonville Public Schools 715-823-7215 ext. 2604
ddyb@clintonville.k12.wi.us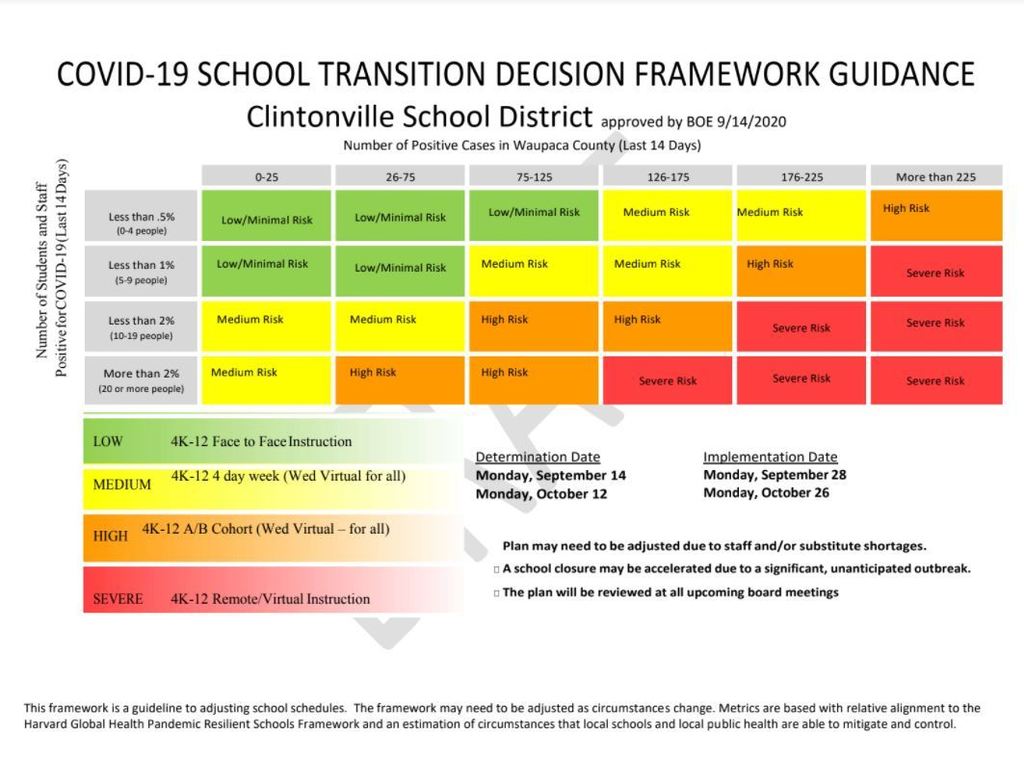 DEAR PARENTS: Due to the COVID-19 pandemic the USDA has announced that any child age 18 or younger will be eligible for free breakfast and lunch regardless of family income through December 31st, or until funding is depleted. This went into effect on September 1st. Student accounts have not been charged for these meals. The free meals program does not include a la carte items or milk at milk break for the 4K - 5th grade students. It is very important that families still complete the free/reduced applications so that when the funding is depleted, we have a current application on file and your benefits do not lapse . The application can be found at
https://skyward.clintonville.k12.wi.us
or a paper copy is available in the school offices. If you have already completed an application this school year or have received a letter that you have been directly certified for meal benefits, you do not need to fill out another application. If your income changes at any time throughout the year and you think you may qualify for meal benefits you can fill out an application at any time. Virtual learning students are also eligible. To sign up for meals for the days your student is learning virtually, visit the Clintonville School District website at
https://www.clintonville.k12.wi.us
and click on the food service meal request link to fill out the form. The form must be filled out each week and meals must be picked up from the High School each Wednesday between 11:00 - 1:00.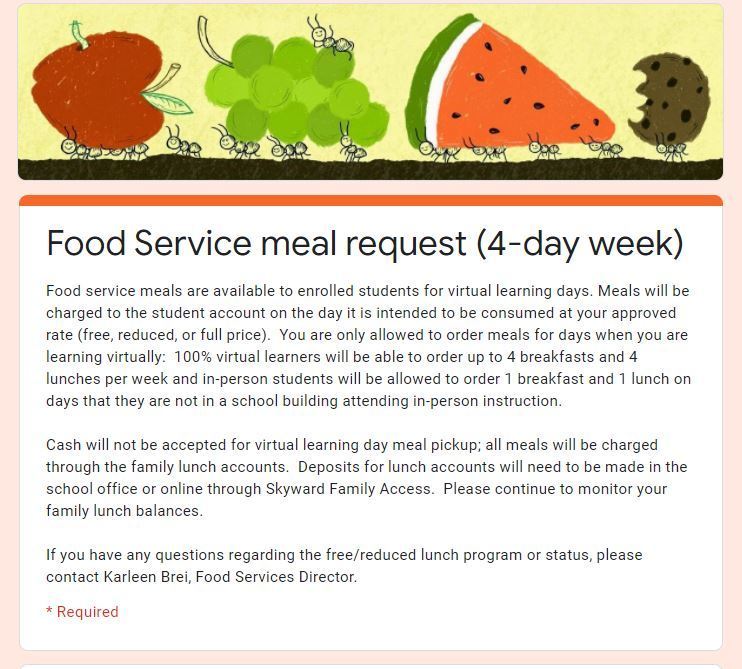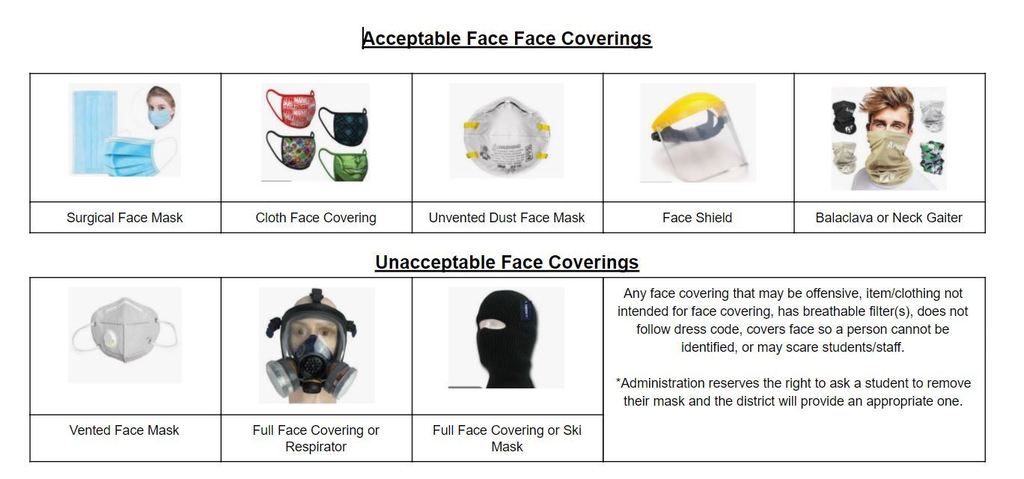 Food Service meals are available to enrolled students on virtual learning days. Click on this link for information on ordering meals for pick up:
https://forms.gle/b1wQVEdvasG8ZG896

CPSD is using DPI return to school information and posting on their social media pages. Please use this information as needed. How do I talk to my student about staying home from school and Covid-19?


CPSD is using DPI return to school information and posting on their social media pages. Please use this information as needed. What if we live with someone who has Covid-19? What if my student that had "close contact" gets sick and isn't tested?


CPSD is using DPI return to school information and posting on their social media pages. Please use this information as needed. What if my student becomes sick but tests negative? What is a "Close Contact"? What if my student came in "close contact" with someone tested +?