FACILITY CONCEPT PLANNING GROUP MEETINGS: 6:00-8:00 PM
Monday, July 27 @ High School Auditorium

Monday, July 6th @ High School Auditorium

Monday, June 3rd @ High School

Thursday, June 13th @ Rexford/Longfellow

Monday, June 17 @ Middle School IMC

Monday, July 8 @ Middle School IMC

Monday July 15 @ Middle School IMC

Monday, August 5@ Middle School IMC

Monday, August 19 @ Middle School IMC CANCELED

Monday, September 16 @ Middle School IMC

Monday, October 7th @ Middle School IMC POSTPONED

Monday, October 21st @ Middle School IMC Note Date Change (Updated concept solutions and updated numbers will be shared at this meeting)

Monday, November 18th @ Middle School IMC - 6:00 - 8:00 pm

Monday, March 2nd @ Middle School IMC - 6:00 - 8:00 pm - ALL ARE WELCOME! (Come see the updated concept design plans and a draft of the community survey)
All meetings are open to the public. Please feel free to share your ideas and thoughts regarding the facility concept process with any of the representatives attending the meetings (participants listed in meeting notes), Superintendent David Dyb, or members of the Board of Education.
RESOURCES AND INFORMATION
August 5th Meeting Agenda & Notes

August 5th Sustainability Presentation

August 19th Meeting Agenda CANCELED

November 18 Meeting Agenda

March 2nd Meeting Agenda & Updates Concept Plans/Community Survey Draft
DISTRICT FACILITY AND PLANNING
(TO BE PUBLISHED ON OCTOBER 6, 2020)
EXHIBIT A
(Type A Notice)
NOTICE OF REFERENDUM ELECTION
NOTICE TO ELECTORS OF
CLINTONVILLE PUBLIC SCHOOL DISTRICT
RELATING TO A REFERENDUM ELECTION
TAKE NOTICE that a referendum election shall be held on November 3, 2020 in the Clintonville Public School District for the purpose of approving or rejecting an Initial Resolution adopted by the School Board of said School District on August 10, 2020.
The Initial Resolution reads as follows:
INITIAL RESOLUTION AUTHORIZING
GENERAL OBLIGATION BONDS
IN AN AMOUNT NOT TO EXCEED $37,000,000
BE IT RESOLVED by the School Board of the Clintonville Public School District, Waupaca, Shawano and Outagamie Counties, Wisconsin, that there shall be issued, pursuant to Chapter 67, Wisconsin Statutes, General Obligation Bonds in an amount not to exceed $37,000,000 for the purpose of paying the costs of district-wide improvements to all school buildings and grounds including renovations to the existing middle school for purposes of creating a 4k-5th grade elementary school, addition of middle school and agri-science space to the existing high school, safety and traffic flow improvements, replacements and upgrades to building systems and infrastructure; and acquisition of related furnishings, fixtures and equipment.
The question to be submitted to District electors with respect to the Initial Resolution will be "Shall the foregoing resolution of the School Board of the Clintonville Public School District be approved?"
Copies of the Resolution directing submission of the question set forth above to the electorate and information concerning district boundaries may be obtained at the District offices located at 45 W. Green Tree Road, Clintonville, Wisconsin 54929.
Persons with questions regarding the referendum election should contact David Dyb, Superintendent.
Clintonville Public School District
Mark Zachow
District Clerk
Update July 28
Clintonville Public Schools Press Release - July 28, 2020
Middle School to Elementary Conversion
Middle School Addition and High School Updates
Facility Concept Planning Group Recommends Moving Forward With Referendum Plans
Last evening the Facility Concept Planning Group met in the high school auditorium to further discuss facility planning for the Clintonville Public School District. Representatives from Hoffman Planning, Design, and Construction along with Representatives from PMA Securities, LLC shared updated information related to the base plan and the projected tax mill rate for district residents.
After reviewing feedback from staff and the community survey, the base plan now includes a continued emphasis on renovations to the current middle school; allowing it to become a 4k-5th grade elementary school, complete with age appropriate amenities, classroom aesthetics, and furnishings. After reviewing existing space needs, plans for a middle school wing addition to the high school were adjusted slightly to reduce the scope of the project and keep within budget projections.
As for financing the project, Representatives from PMA Securities and District Superintendent, Dr. David Dyb, provided even more encouraging news. Recently released DPI general aid estimates for the school district could potentially impact the overall school tax mill rate associated with a November referendum even more than previously reported. If these aid estimates remain steady into the fall, the current school tax mill rate could remain level with the addition of a facilities referendum.
Combining current record low bond interest rates with the school district being on schedule to complete all outstanding debt service payments in 2022 has created a very favorable situation for the district to move forward with referendum planning to address the efficiency of district operations, improve safety, capital facilities needs and physical learning environments of the entire district.
After discussing the information presented, the Facility Concept Planning Group then recommended the Board of Education move forward with plans for a referendum not to exceed $37 million. The Clintonville Board of Education next meets on August 10th to take up discussion on referendum planning.
For more information, please contact:
David C. Dyb, Ed.D.
Superintendent
Clintonville Public Schools
715-823-7215 ext. 2604
Update March 2, 2020
Update/Renovate Current Middle School to Elementary School

Update Soft and Hard Play Surfaces at Proposed Elementary School

Secure / Safe Entrances

Middle School Addition to High School (Moved location of CMS Gymnasium for CMS/CHS Tech Ed Addition)

Agriculture Addition to High School (Changed from Innovation Center)

District Pupil Services and High School Guidance Consolidation at High School

Metal Fabrication, Welding, Wood Shop, Technology, Receiving Remodel Addition to High School (Additional Space for Welding, Wood Shop, Fabrication, Industrial Technology, and Storage)

Classroom/Living Space for Independent Living / Transitional Program Skill Development

Rec Center Additions for additional Cardio and Free Weight Lifting
Concept Design Plans (High Definition PDF) and Budget Summary from March 2, 2020 Same as what is scrolling below but will download and can be printed or zoomed in upon. CLICK HERE
IN ADDITION TO THE UPDATED CONCEPT PLAN DESIGNS, THE COMMITTEE DISCUSSED QUESTIONS FOR A FUTURE COMMUNITY SURVEY.

November 18, 2019
Facilities Concept Group, Administration, and Staff have been working with Hoffman Contractors to reduce the cost of Option E while not reducing services the Clintonville School District needs/offers. Here are the latest budget number breakdowns and matching schematics.
The images below scroll fast. Please click the following links to view information provided at the Nov. 18th Meeting.
Diagrams - High Resolution 11-18-2019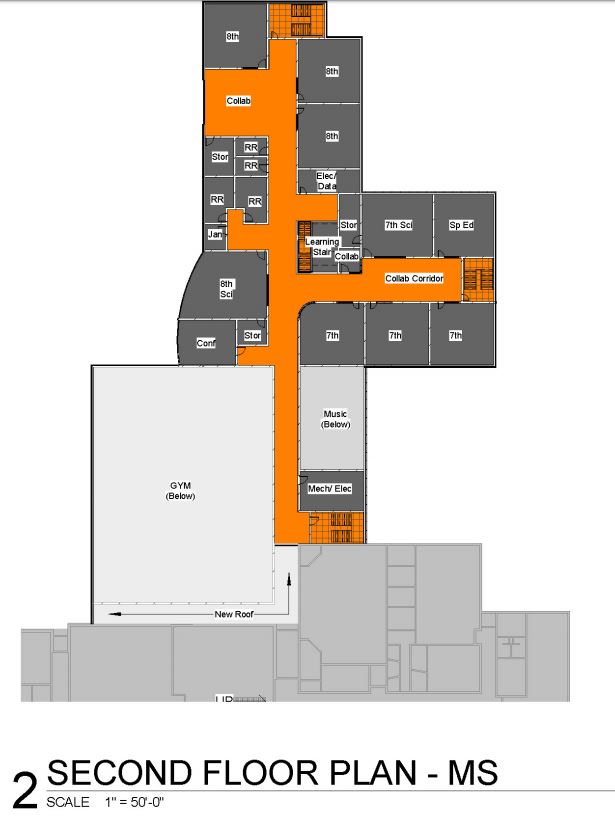 October 21, 2019
Update given on school land purchase: Environmental and water delineation completed by Cedar Corp - All is fine with the environmental report and approximately 37+ of the 62+ acres are available for development. The remaining acreage is wetlands, forest, etc.

Approximately $30 million (taken out over 3 years) would not cause an increase in current mil rate due to high school building debt being able to be retired (paid off) by 2021. District may/will need some additional operational funds beginning next year which could be out of that capacity or an increase. We will contact Baird financial to run what additional impact on taxes operation fund and/or additional construction/renovation referendum capacity would be (i.e. $45 million, $50 million etc.) and share at the next meeting.

Discussion of Meeting Presentation

Layout solves traffic flow problems and safety concerns at each facility.

Cost of each individual addition (Innovation Center, Middle School Addition, Rec Center Addition, etc.)

Playground Space for newly proposed Elementary School / Lack of Green Space

Multi use playing surface on Stadium Field is more cost effective and useful for all students. Additional playing field proposal is not adjacent to school, includes extra maintenance, and does not address many concerns.

Future of Dellwood

Need of District Child Care Facility

NEXT MEETING: NOVEMBER 18 @ 6:00 pm in the Middle School IMC
Clintonville Planning Presentation Diagrams in High Resolution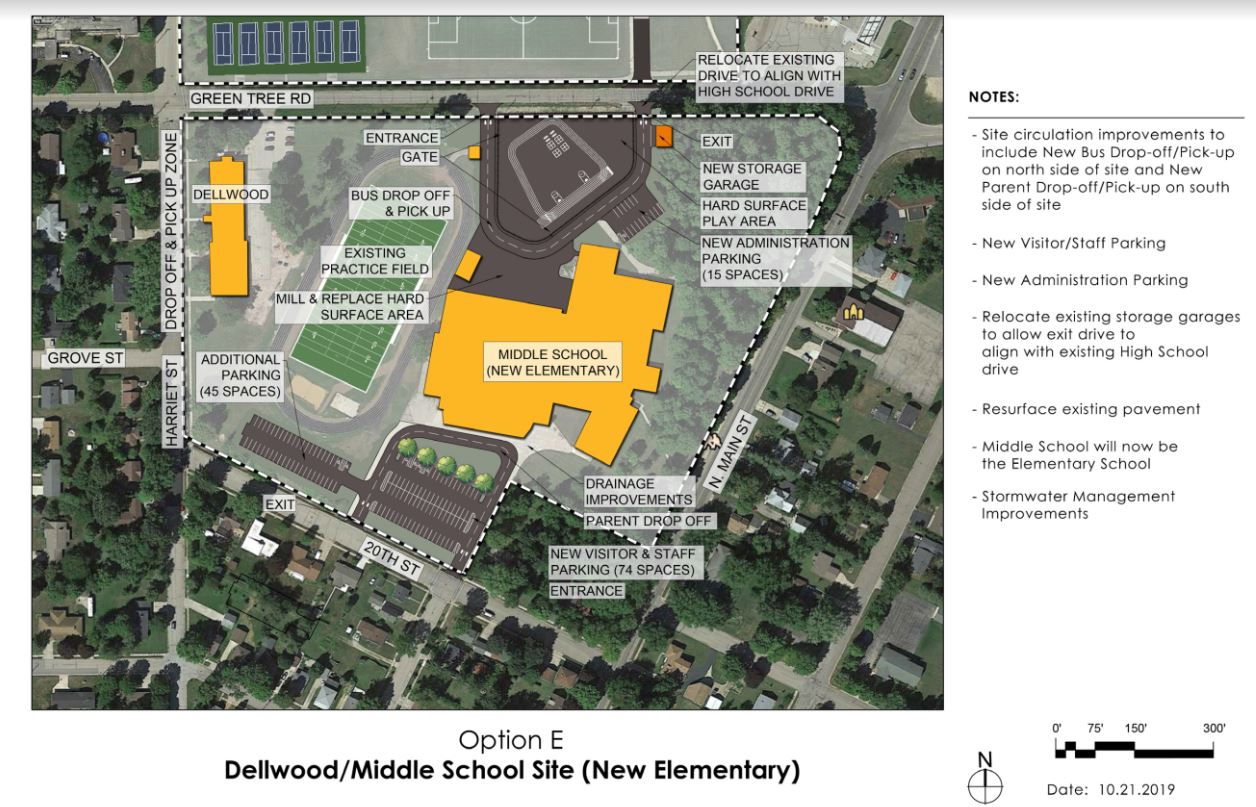 PREVIOUS MEETING INFORMATION BELOW
Hoffman presented various options to community members and the Facility Planing Concept Group. During their presentation, it was stressed that the options were created from feedback as well as some ideas that have worked for other districts. Table-top discussion followed, and feedback was given to Hoffman Planning Design & Construction. Hoffman will now use group feedback to reconfigure and create additional options.
The group favored a combination of A/B as well as options D or E with modifications. All options include maintenance to buildings as well as transformation to 21st century learning spaces.
Linked below are the Budget Planning Matrix as well as Option Layouts. The Option Layout cost is explained on the Budget Planning Matrix.
These are not Final Budgets or Concepts. Updates will be provided at the October 21st meeting.
Click on Either Image to View Larger/Printable PDF (11 x 17)
Click on Picture Below to View/Print Option Layouts
In the Spring of 2019, the Clintonville Public School District began a facilities analysis process in partnership with Hoffman Planning, Design, and Construction. Information gathering started with engineers visiting school district facilities, stakeholder input sessions and the formation of a concept planning group to review information and discuss findings with the goal of developing facility concept recommendations by the fall of 2019.
Hoffman met with Facility Concept Planning Group and collectively constructed and discussed what the process of Facility Planning should look like for the Clintonville School District.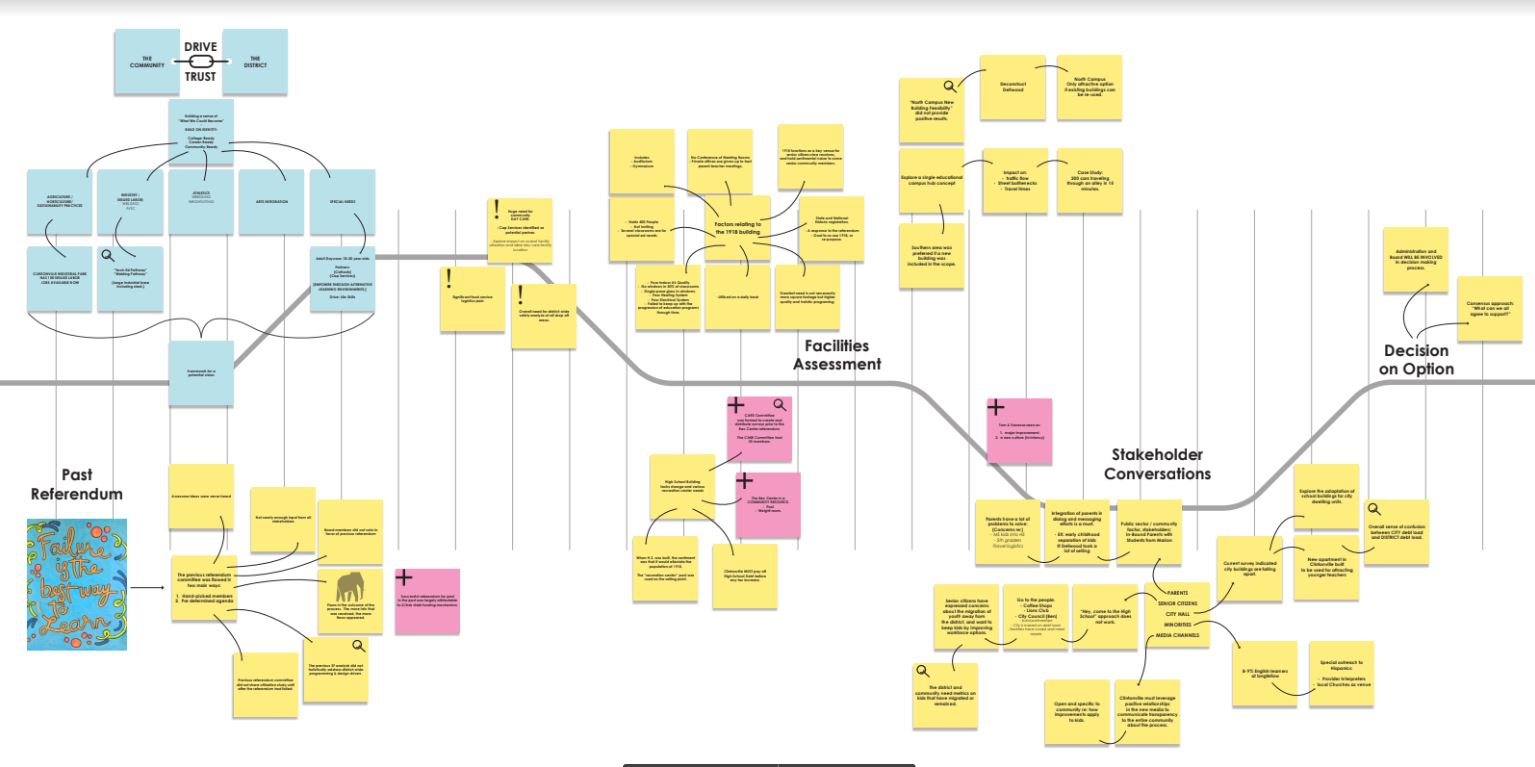 All School Staff had the opportunity to meet with Hoffman representatives. The discussions included: What staff liked about current facilities/programs/safety, concerns about current facilities/programs/safety, and general comments and questions.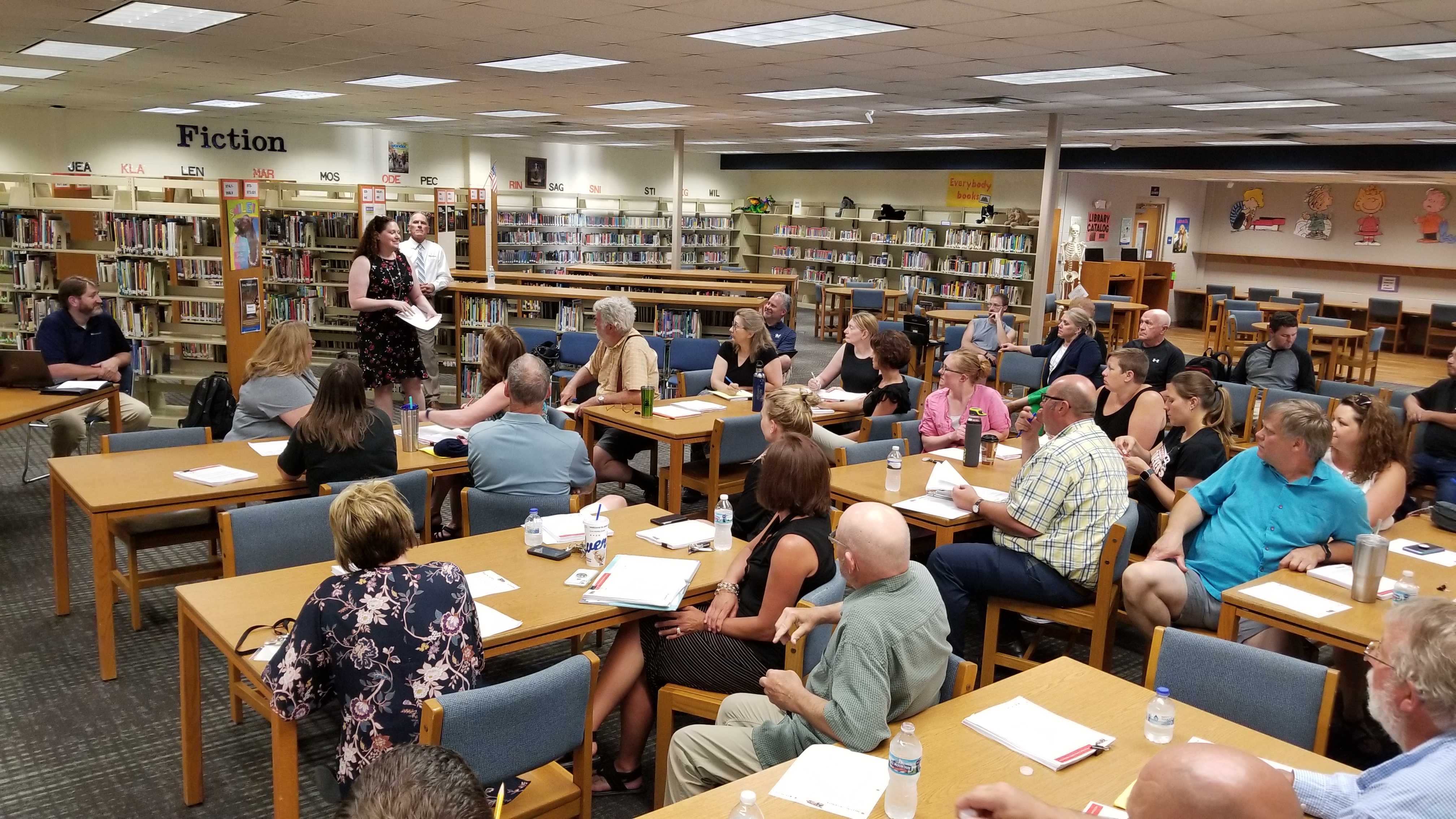 July 8th - Jennifer Lehrke - Legacy Architecture - Presents a summary of Rexford Longfellow Elementary. She discussed legal requirements (State and National Historic Registry), future development/update procedures, and various ways that facility could be used (including educational).
Representatives from Hoffman (including several Engineers), District Administration, members of the Facility Concept Group, and Board Members toured all campus sites. Hoffman reported that all sites were very well maintained and is aware of future maintenance needs. This report reviews the overall condition of the schools and identifies items already on the district's long term capital improvement plan as well as items that may have been recently recognized. They are representative of maintenance measures that most school districts continue to take steps to address within their current budgetary means.
Facility Condition Reports