I, Officer Ebert, have the pleasure to announce that I will be your new School Resource Officer beginning January 1, 2023. I have been with the Clintonville Police Department since September 2022, and am excited to give back to the community I grew up in. As a 2002 graduate of Clintonville High School when the chance came up to leave the city of Milwaukee and come back to my hometown, there were absolutely no questions asked. Once a Trucker always a Trucker. Bleed orange and black through and through! Prior to joining the Clintonville Police Department I was employed by the city of Milwaukee, Violent Crimes Unit. I specialized in surveillance, apprehending violent criminals, and analyzing criminal trends in the city of Milwaukee. Much of my focus involved drug and firearm investigations. I have an amazing, supportive family that consists of my wife and four children. As a family, we enjoy numerous activities such as hunting, fishing, and camping just to name a few. We are very involved in athletics. This year I had the chance to help coach 6th grade football which was an amazing experience. I plan on taking on other coaching roles within the community in the future, as I was a three-sport athlete in high school (football, wrestling, and baseball). I know taking over the SRO position is going to be a big change from my previous law enforcement experience, but I intend to provide an exceptional level of service. I have already been meeting with Officer Bartel, Chief Freitag, and Superintendent Kuhn to discuss not only their expectations of me, but also some ideas I hope to introduce into the Clintonville Public Schools. First and foremost, I understand I must establish relationships with students, faculty, and parents. I know approaching a law enforcement officer can be intimidating, but I want people to understand that I will always have the time to listen and help them in any way I can. I encourage anyone to stop in and talk whether it be about policing, schooling, or anything else in general. I desire to be a resource for the community and everyone in the school district. Officer Casey Ebert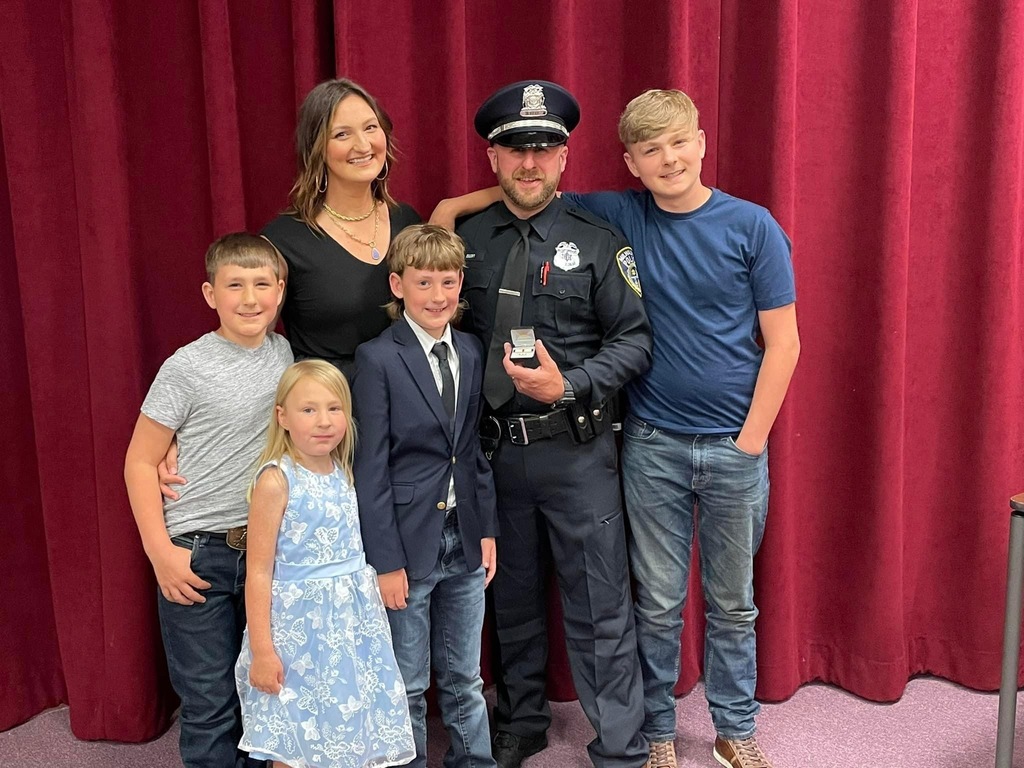 CPSD Welcomes Matthew Hanson - Elementary Associate Principal Hello Clintonville! My name is Matthew Hanson, and I am thrilled to introduce myself as the new 2022-23 Associate Principal at Rexford-Longfellow Elementary School. I look forward to getting to know all my students, guardians, staff, and community members over the upcoming year. But first, here is a little about me. I am from Door County Wisconsin. I graduated from the University of Wisconsin Oshkosh with a BA in K-8 education. After graduating from college, my education continued at Northern Illinois University (NIU) where I completed a MA in school counseling. After graduate school, I moved to Rock Springs, Wyoming, where I began my professional career as a school counselor at Eastside Elementary School. As a school counselor I focused on helping students understand how their social, emotional, and academic growth are all connected. This is something that I continue to highlight in my work as an administrator. While working as a counselor I began my Academic Administration Master's Degree at the University of Wisconsin Milwaukee. Upon completion I took a position at Rock Springs Junior High as an assistant principal. In this role, I utilized a relationship-based collaborative approach. This means that I rely on relationships and communication to work directly and cooperatively with teachers and students As an educator I often use my own history of academic struggles to shape my work. I was diagnosed with ADHD and dyslexia at an early age. Even when I wanted to give up, my teachers would not let me. If not for amazing teachers, I would not have gone from being illiterate in 5th grade to having two master's degrees today. I have experienced what passionate teachers can do. My goal as an administrator is to support and foster such passionate teachers and connect them to the students that need them As a side note, you may be wondering why I made such a big move to Wyoming. The answer: I love the outdoors and running in the mountains. In my spare time I run 100-mile races. Wyoming gave me the rare opportunity to live on a mountain and increase my training. Some of my other interests are: psychology, car restoration, sailing, cooking, eating, reading, listening to audiobooks, watching Netflix, and snowboarding. I am excited to be back in my home state and as we all know, there is no place like Wisconsin! I look forward to starting my new adventure in Clintonville and meeting everyone this Fall! GO Packers!

Congratulations on your Retirement! Veronica Campbell (24 Years) - Family And Consumer Sciences Creative Foods and Chef's Class, FCCLA adviser Becky Polzin (22 Years) - 7th - 12th grades and FVTC credit classes Yearbook adviser, basketball coach, running club coach & Honors Reading Adviser Renata Curran (21 Years) - English, German, math, social studies, physical science and special education Pam Skokan (31 Years) - Grades 4, 5, 6, and 8, At-Risk/Success Coordinator, Math League Coach, Odyssey of the Mind Coach, coached volleyball and gymnastics Steve Reinke (40 Years) - Admin of Buildings & Grounds, Hired as Maintenance mechanic, 2009 -WASBO State Facilities Manager of the year, 2010 - WSSCA Safety Coordinator of the year runner up Dan Scherschel (26 Years) - World St., U.S. History, Current Issues, Latin American St., People & Places, Middle Eastern Studies, International Relations, Economics and American Government, Student Council Advisor for 10 years Jan Ptacek (37 Years) - Special education reading & intervention teacher Started as an LD/ED teacher. Craig Messner (15 Years) - Maintenance Mechanic (not pictured)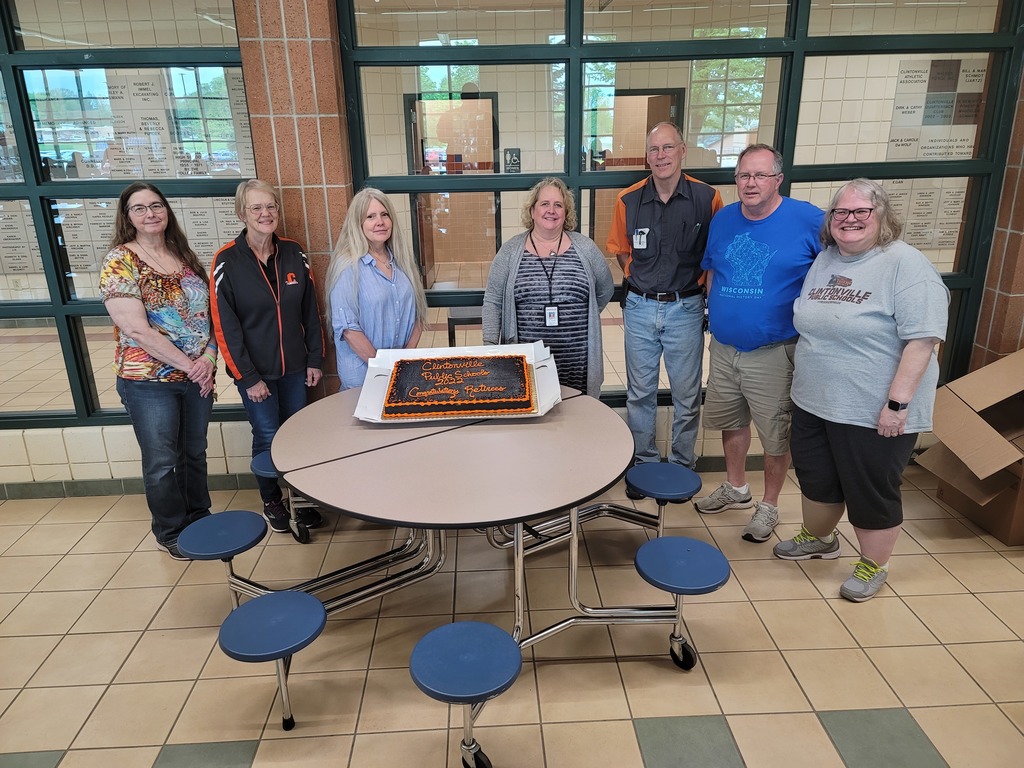 20 Years of Educational Service at CPSD Thank you for your commitment and dedication to the Clintonville School District. 20 years of service in any occupation is an achievement! Our students and community benefit from employees like you! Left to Right: Kevin Reese, Mike Sivertson, Elly Brzezinski, Rod Moon, Jim Nighbor, Marty Hartleben, Margaret (Ann) Waniger, Janet Paisar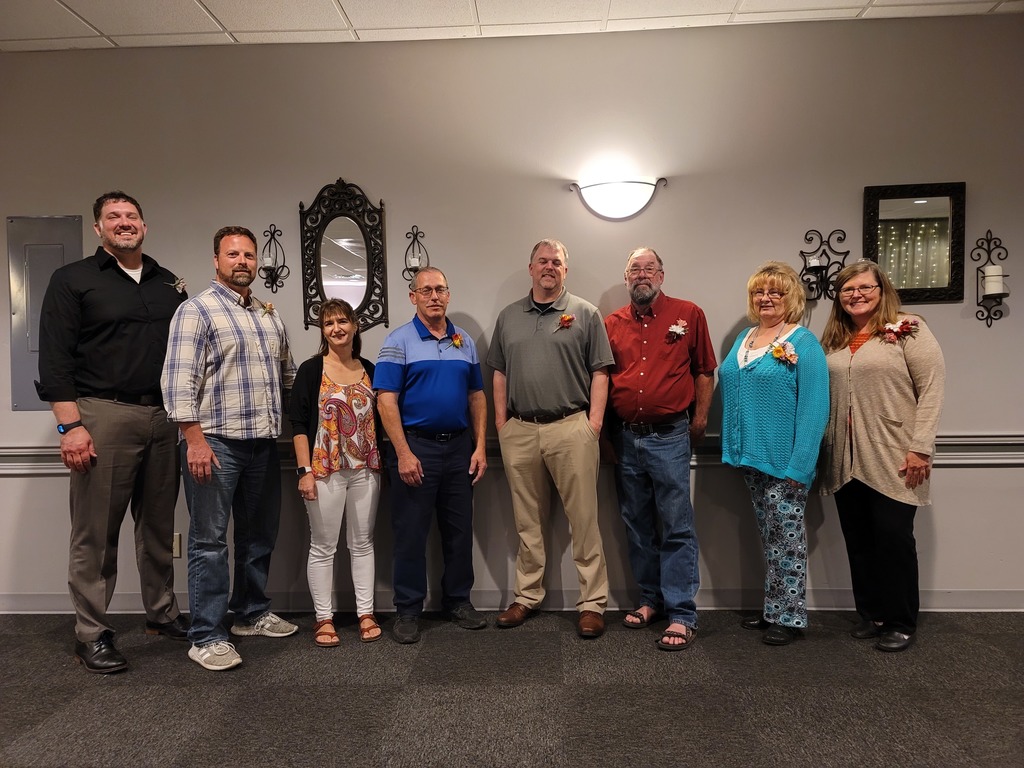 Clintonville School District Wellness and Resource Fair Information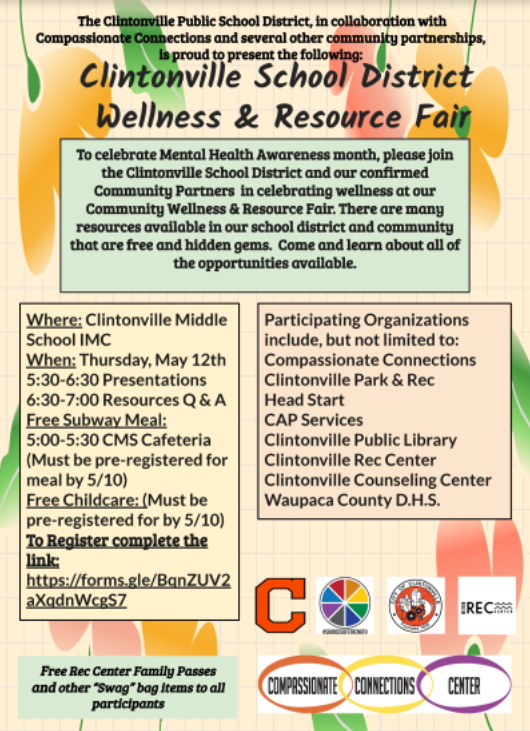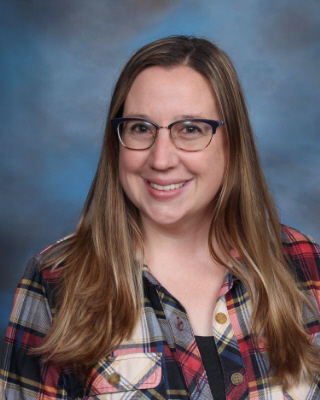 Cast Try It Week! See picture for Details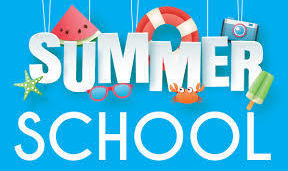 There is no elementary Trucker U tomorrow.

CPSD Staff, Students, and Community On Friday, February 25, the Centers for Disease Control (CDC) released revised guidance that eases masking protocol on school transportation. In the revised guidance, CDC clarifies that the Transportation Security Administration (TSA) mask mandate for public transportation does not apply to public or private schools, including early care and education/child care programs. Masking requirements for individuals who utilize our district public or private school transportation services will now be recognized as optional. Troy Kuhn - CPSD District Administrator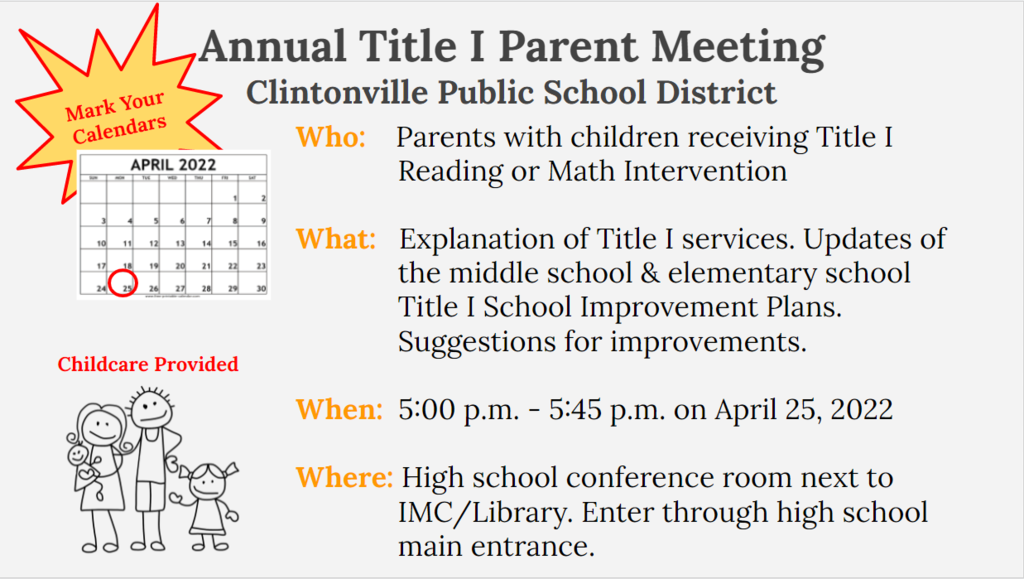 Please take advantage of this. I (Troy Kuhn) have known Dr. Justin Patchin for over 10 years and his eye opening presentations are amazing. He has spoken at the White House and even at the FBI academy. Children's minds are subject to many things in the worlds of Facebook, TikTok, Snapchat, Instagram, etc. Not only is it important that parents/guardians understand these online worlds, but also understand how to have crucial conversations with them. Not only does one's online footprints exist forever, but we must also understand how to be safe. Please do miss out on this serious and at times humorous presentation that Justin will be providing. The information may scare you, fascinate you, and really open up your mind!
https://docs.google.com/forms/d/1C8v0pfZjhfj0bcndSWYDu27MsDH_HQOHHFVposnCNnE/viewform?edit_requested=true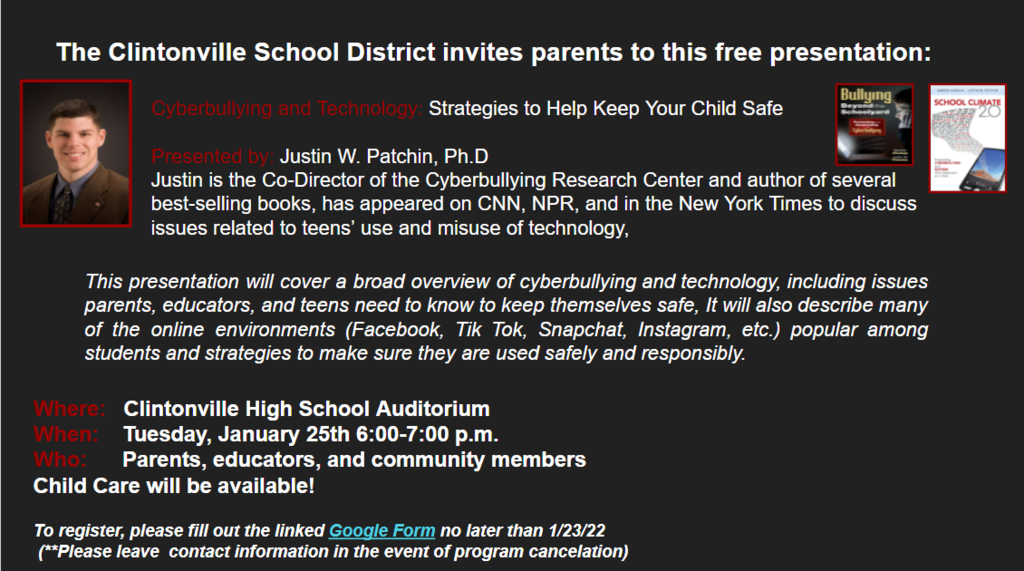 CPSD staff, parents and community members met Tuesday night to start discussions around best practices in assessment and grading. This continuous improvement planning team will continue their work throughout the year to develop a vision for students and teachers within the Clintonville Public School District. If you are interested in joining this team please email Peg Mischler, Curriculum Director, at
pmischler@clintonville.k12.wi.us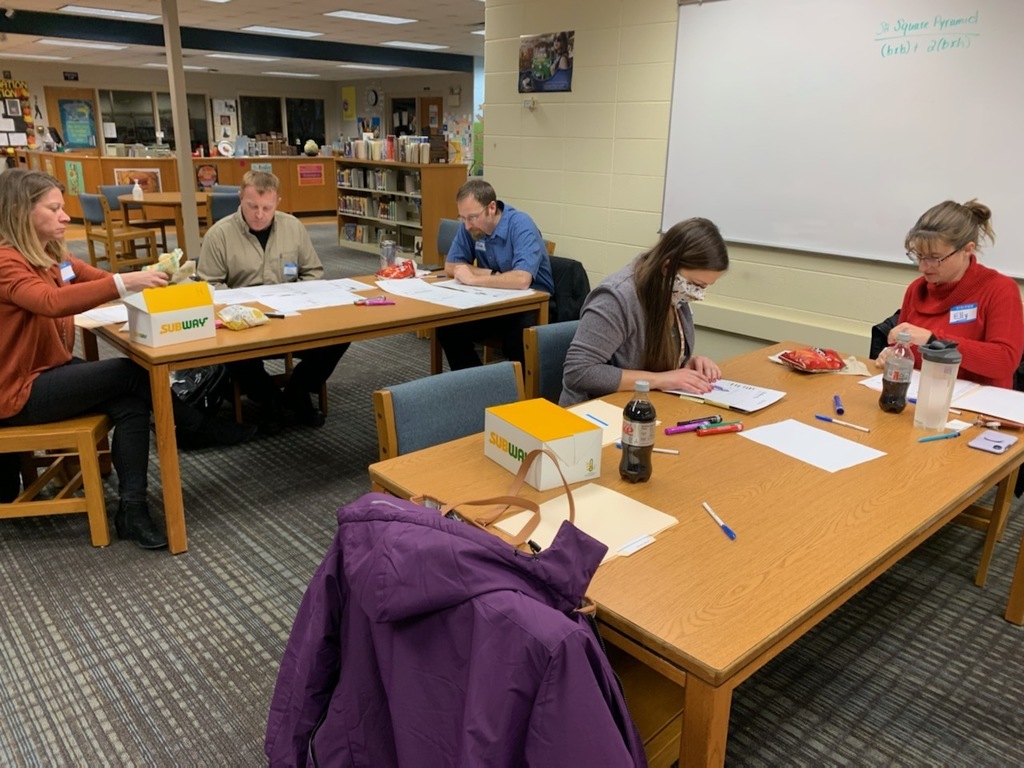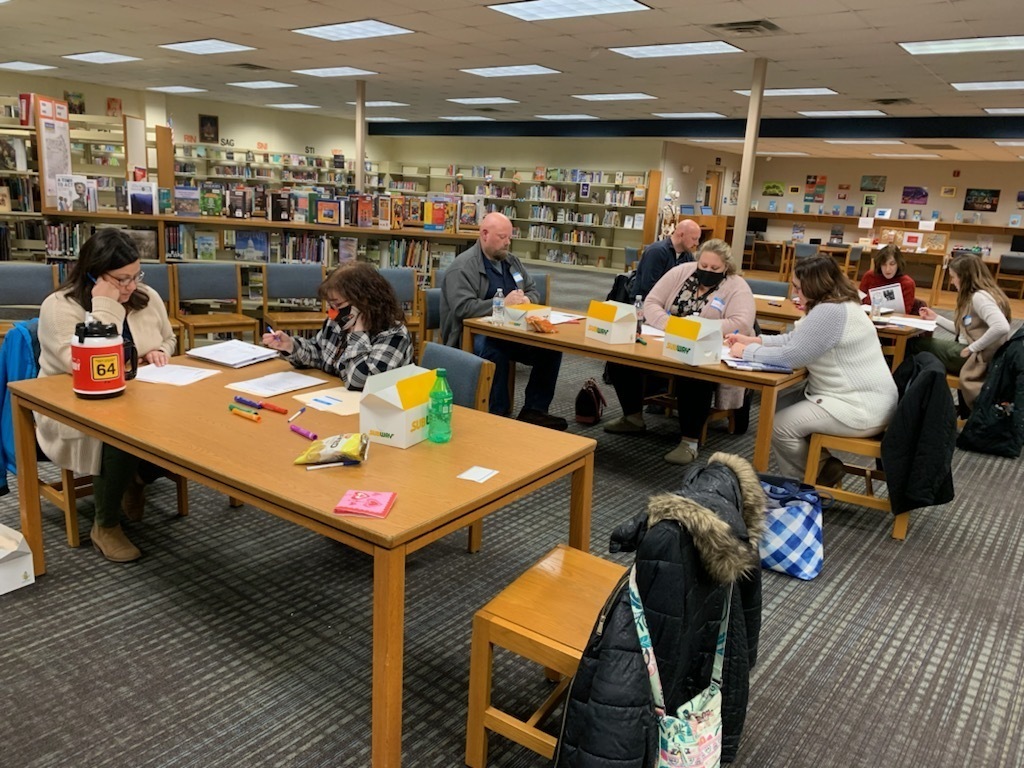 Wisconsin School Board Week October 3-9, 2021 School Boards Serve With Heart This special week is a time to build awareness and understanding of the vital function an elected board of education plays in our communities. We encourage public school districts across the state to celebrate Wisconsin School Board Week and honor local school boards for their commitment to their communities and students.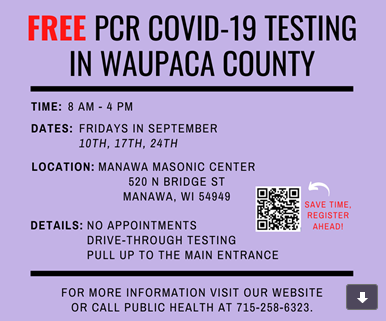 Pandemic EBT (P-EBT) is a program that provides benefits for families to buy food if their children were not getting free or reduced-price meals during the summer due to the COVID-19 pandemic. If you have recently submitted an application and been approved for free or reduced-price meal benefits and have not received P-EBT or Pre-6 P-EBT benefits for your child during the 2020-2021 school year, your child may be eligible for support through the Summer P-EBT program. Please see the attached flyer from the Department of Homeland Security.
https://drive.google.com/file/d/1OjkNiW90AjP4-0PRKtSgWOAU6L_wExZy/view?usp=sharing