EDIT MAIN
"If we can leave one thing, it is this: at the end of all of this, your kids' mental health will be more important than their academic skills. How they felt during this time will stay with them long after the memories of what they did during these weeks. Please everyone keep this in mind each and every day. We are in this together!"
---
Last Updated: 05/24/2021
Positive Cases last 14 days
Student: 0
Staff: 1
Current Cases in Quarantine
Elementary Students: 0
Middle School Students: 1
High School Students: 0

Staff: 1
---
IF YOUR CHILD IS SICK...
Normal Symptoms - Call School Office
R/L - 715-823-7215 ext. 3200
CMS - 715-823-7215 ext. 2400
CHS - 715-823-7115 ext. 2200
Covid-19 Symptoms - Call Covid-19 Hotline 715-823-7215 ext. 2228 or 715-823-8828
---
Click on this link for printable Coronavirus Exposer Protocols - Students.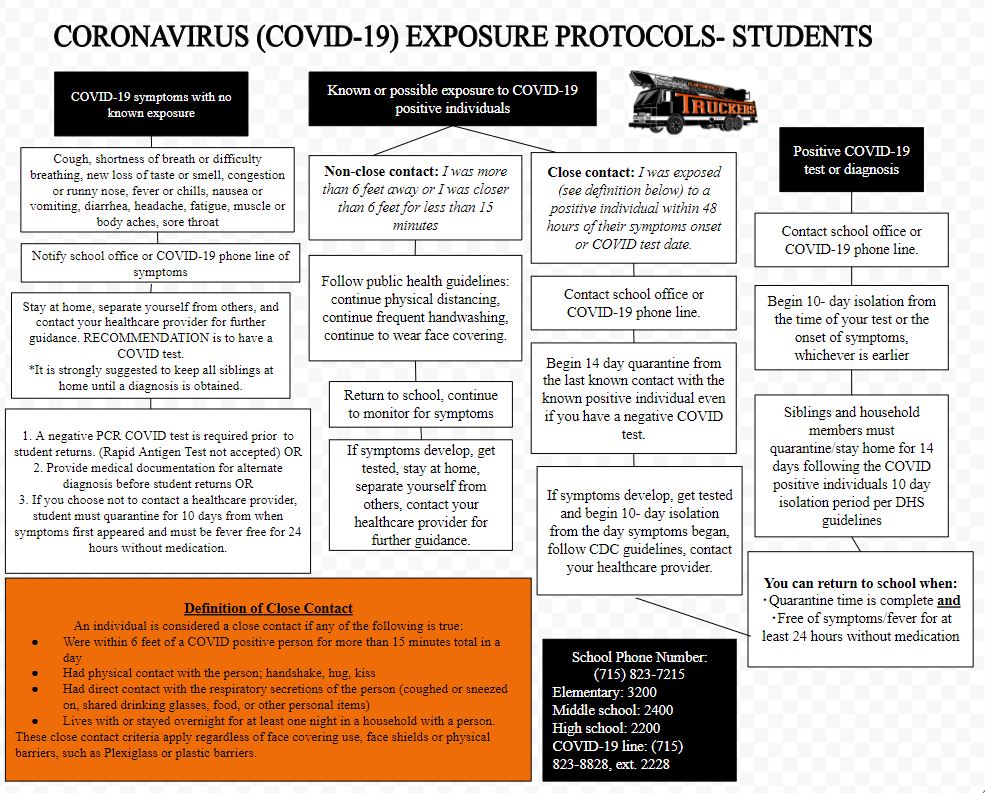 ---
This chart helps determine if students should be in school. If they have 1 or more symptoms in Column 1 or 2 or more Symptoms in Column 2 the student should not be attending in person instruction.
For additional preventative measures - If a student is experiencing any of these symptoms they must remain home, and in addition their siblings must remain home per our updated student illness policy.
Column 1 - 1 or more symptoms

Column 2 - 2 or more symptoms

Fever (100.0 or higher)
*Cough (new uncontrolled cough that causes difficulty breathing, for students with chronic allergic/asthmatic cough, a change in their cough from baseline)
Shortness of breath
Difficulty Breathing
New lack of smell or taste

Sore throat
Runny nose/congestion
Chills/shaking or exaggerated shivering
Muscle pain
Nausea or vomiting*
Headache
Diarrhea*
Fatigue

*Nausea, Vomiting, Diarrhea alone may not be COVID-19 related. If no other symptoms develop students may return when symptoms have resolved for a full 24 hours.
---
Severe Risk Plan / Virtual Learning Expectations / Discussion Covid-19 Parent/Community Release
---
---
---
Please click this link to access document for online resources.
---
---
---
9-16-2020
Good Afternoon Clintonville Parents and Families: This message is to provide some clarification to yesterday's message on our return to school plan. ALL students will have the option to return to school for 4 days a week beginning Sept. 28th if we continue in the medium risk level. While in the Medium Risk Level, Instructional options will be 4 day in-person or 100% virtual. The 2 day cohort will no longer be available. The school district may change to a more severe risk level at any time if conditions dictated by the county Covid-19 cases warrant such a change. A switch to a more severe level would be communicated to families and staff as quickly as possible. If parents feel the best interest of the child is to switch back to in-person instruction, they must contact the building principal to decide the most appropriate transition date. In most cases, the building principal will determine that this date will be the end of the quarter (Nov. 4th, Jan. 14th, March 19th). With the possibility of students returning to 4 days a week in-person beginning Sept. 28th, administration has agreed that parents may contact the building principal by Wednesday. Sept. 23rd to request the switch from 100% Virtual to 4 days a week in-person instruction. While in the medium or higher risk level, any parent may choose to have their child in the 100% virtual learning at any time due to health or medical concerns by contacting their child's building principal. They are committed to virtual for one full quarter or until the district suspends virtual learning. All 100% virtual students may stay with that option until we return to the Low Risk Category according to Return to CPSD Safety Document for Return w/Covid 2020-2021 and pre-Covid Guidelines. Please feel free to contact your child's building level principal with any questions. David C. Dyb, Ed.D. Superintendent Clintonville Public Schools 715-823-7215 ext. 2604 ddyb@clintonville.k12.wi.us
9-15-2020
Dear Parents, Last evening the Clintonville Board of Education approved an update to our return to school plan that utilizes metrics developed in collaboration with the Waupaca County School Superintendents and the County Health Officer. These metrics will allow the district to move from the current "High Risk" level to the "Medium Risk" level and more importantly, 4 day in person instruction for all students beginning Monday, September 28th. Wednesdays will remain a virtual / learning at home day for all students. The plan does allow for adjustments to be made for remaining in or moving to a higher risk level immediately if a significant change in cases occurs. We will continue to use the Waupaca County Dashboard numbers to help guide our decisions. Thank you for helping us to provide a safe learning environment for all students and staff https://waupacacounty.maps.arcgis.com/apps/opsdash... Sincerely, David C. Dyb, Ed.D. Superintendent Clintonville Public Schools 715-823-7215 ext. 2604 ddyb@clintonville.k12.wi.us
---
AUGUST 6, SCHOOL BOARD DISCUSSION
CLINTONVILLE PUBLIC SCHOOL DISTRICT RETURN TO SCHOOL HANDBOOK AND GUIDELINES
CPSD SAFETY DOCUMENT FOR RETURN W/COVID 2020-2021 (CHART)
JULY 30, 2020
LINK INCLUDES ENGLISH Y ESPAÑOL - HTTPS://DOCS.GOOGLE.COM/DOCUMENT/D/1SBTZWFBZABQV1_F5P2SBODZQJS2IN7LCZZCXQNWGMKA/EDIT
JULY 30, 2020
DEAR PARENTS
WE HAVE RECEIVED MANY INQUIRIES REGARDING THE CPSD BACK TO SCHOOL PLAN AND WHEN IT WILL BE RELEASED TO THE PUBLIC.
A DRAFT OF THE 2020-2021 BACK TO SCHOOL PLAN WAS PRESENTED AND DISCUSSED WITH THE SCHOOL BOARD ON JULY 20TH AND WITH STAFF ON JULY 27TH. THESE INITIAL DOCUMENTS WERE CREATED WITH THE COOPERATION OF LOCAL HEALTH OFFICIALS, DISTRICT NURSING STAFF, NEIGHBORING DISTRICT ADMINISTRATIVE TEAMS, CESA 8 SUPERINTENDENTS, AND SCHOOL ADMINISTRATORS AND DIRECTORS. THE DOCUMENTS HAVE BEEN REVISED AND WILL AGAIN BE PRESENTED TO THE SCHOOL BOARD ON AUGUST 5TH DURING A SPECIAL MEETING. AT THIS TIME A DECISION WILL BE MADE ON THE BACK TO SCHOOL PLAN FOR CLINTONVILLE PUBLIC SCHOOL DISTRICT.
A COMMITMENT DATE WILL BE DETERMINED FOR PARENTS TO SELECT EDUCATIONAL OPTIONS FOR THEIR CHILD TO BEGIN THE 2020-2021 SCHOOL YEAR.
THANK YOU FOR YOUR PATIENCE, UNDERSTANDING, AND SUPPORT OF THE CLINTONVILLE PUBLIC SCHOOL DISTRICT.
LINK TO VIDEO MESSAGE - HTTPS://TINYURL.COM/Y2NJ7A5E
SINCERELY,
DAVID C. DYB, ED.D.
SUPERINTENDENT
JULY 8, 2020
Parents/Guardians of students attending Clintonville Public School District,
You will be receiving an envelope in the mail as well as a digital copy if your email address is on file with CPSD. We encourage families to read and fill out information digitally, however, if this is not possible, please read and fill out the paper copies and return them to the District Office mail slot by July 17th, at 12pm noon. Below is a checklist of what is all included and asked to be filled out.
If the writing is in blue, it is an active link to click on to bring you to the document/survey.